The Marmm Klinik of Indore has become a leading name in the field of Hair Transplant in Indore. The team of the clinic is led by Dr. Amit Porwal who is known to show ultimate skills and efficiency when they perform any plastic surgery or hair restoration procedure. Dr. Porwal is a certified, well-trained, and skilled doctor and they like to improve the level of the efficiency of his treatments. Therefore, he is engaged in various activities that help him learn some more about hair restoration and plastic surgery.
The Recent Visit of Dr. Amit Porwal
Last days Dr. Amit Porwal attended 2nd International World FUE Institute Workshop that was held in Athens. World FUE Institute organized this workshop from June 2, 2017, to June 24, 2017, at Divani Caravel Hotel, Athens, Attica, Greece. The World FUE Institute is an international organization of licensed plastic surgeons.
This workshop was organized with the aim to provide accurate information about the latest advancements, methodology, instrumentation, and technology. Additionally, the workshop was organized to inspire the plastic surgeon to generate some new ideas to improve the quality of hair restoration treatments. The organizers used surgeries, instructive videos, and lectures to share the information effectively. All the guest find the information really helpful.
Getting Familiar With The Works Of Dr. Amit Porwal
Dr. Amit Porwal has completed his B.D.S. and M.D.S. from Indore and he has attended a fellowship in Facial Plastic Surgery from Bangalore along with Laser treatment training from Spain.
He started his career with a single dream to make the Marmm Klinik a world-class clinic that follow all the international treatment standards and provides first-rate treatments to the patients. The clinic follows the 'day care' concept that promises the patients to send back at the same day of the treatment. He is a member of various Associations and he has got C. M. award Yuva Captain as the youngest entrepreneur Doctor of M.P in 2011 and wellness wizard M.P award by The Times of India.
Dr. Amit Porwal has a solid plan to improve the quality of hair transplant to serve the patients with more integrity and selflessness.

We all will agree on fact that hairs are the most important part of appearance as it enhances the personality. Hence, we all keep on searching for hair care tips. But I bet if you will adopt these following super foods in your routine, you will never have to follow any other tips and tricks to prevent hair loss. Here are ten super foods:
Hair needs protein and nothing can be the better source of proteins than eggs. So you need to eat eggs in order to keep your hair healthy. Eggs are also a good source of biotin and other B vitamins, which will help you in controlling hair fall.
For non-vegetarians, Salmon is the best source of omega-3 fatty acid and this not only prevents hair from falling but also promotes the hair growth. There are many reasons to eat this fatty fish as it is good even for your brain, blood vessels, and also your skin. Salmon is an excellent source of omega-3 fatty acids that promote hair growth.Salmon is also known for containing protein, B vitamins, including B12, and other vitamins and minerals that prevent hair loss.
Beef is very rich source of proteins with B-vitamins. It also contains iron and zinc that promotes the hair growth. Experts suggest eating fresh beef rather than eating canned ones for better results. Some other substitute foods of beef are bison, pork and lamb that encourage hair growth.
For those who want to maintain their diet but also want to intake food for healthy hairs, beans are best food for hair growth. It is a great low-calorie source of protein, fiber, B vitamins, vitamin C, zinc and minerals. Beans are also iron enriched food that is necessary to prevent hair loss.
Sunflower seeds are high in omega-6 fatty acids containing lots of hair loss preventing nutrients like protein, selenium, zinc, biotin, copper, iron, potassium, B vitamins, magnesium, vitamin E and calcium. You must not eat sunflower seeds in excess as they are high in calorie and fat.
We all know nuts are rich in protein, vitamins, minerals, healthy fats and photochemical, which are essential for prevention in hair growth. Include nuts in your diet like almonds, peanuts, walnuts and cashews.
Spinach is very rich in nutrients and antioxidants. It is also a good source of vitamins B, C and E, potassium, calcium, iron, magnesium and omega-3 fatty acids that are required for healthy hair growth.
Oats are another important super food that contains a good amount of B vitamins, zinc, protein and copper. It also embraces some important minerals for hair growth like potassium, phosphorus, magnesium and iron.
Carrots are excellent source of Vitamin A and beta-carotene that are essentially required for healthy locks.
Last but not the least Sweet Potatoes prevent hair loss as they are packed with beta-carotene, which your body converts into vitamin A.
If you are regularly eating these super foods and still facing hair loss then hair experts suggest the sufferers to go for PRP Hair Loss Treatment.

Are you one of them who were proud of their long, shiny hair but nowadays, they feel depressed because of severe hair loss problems? If your answer is 'yes', you don't need to feel worried or irritated because you have a lot of hair advanced hair restoration options for bringing your healthy hair back.
First of all, if you are facing severe hair loss problems, there must be a reason for the severity of the disease. Hair fall is a part of the natural growth cycle and if it is not disturbed, you don't face any issues related to hair loss. The problems start when due to some causes, the growth cycle of hair is disturbed.
If you really wish to eliminate hair loss, you have to know about the root causes of the hair loss problem.
In men and women, nutritional deficiency is the main causes of hair loss since like every part of the body, your hair also needs certain nutrients like vitamins, protein, iron etc.
Sudden hair loss may occur due to accidents, surgeries, chronic diseases etc. Certain medications like chemotherapy for cancer may cause hair loss in men or women.
Some causes affect women only like iron deficiency due to menstruation cycle, menopause, stress, dieting, hairstyles or hair products etc.
Improper hair care and seasonal effects also make the hair weak and dull.
As you see, there are different reasons for hair loss. We cannot do about some of these reasons but you can avoid some causes like the nutritional deficiency or improper hair care etc. If you are fully aware of hair care and still, face hair loss problem due to some serious reasons, you have a modern hair restoration method called PRP Hair Loss Treatment .
PRP is an amazing hair restoration procedure in which your own blood is drawn for extracting Platelet Rich Plasma from it using different techniques and this PRP is injected to your scalp to rejuvenate your hair roots. The growth factors of PRP promote the growth cycle of the hair and your hairs start to re-grow again. As the percentage of the re-growth of the hair increases, hair loss goes away naturally.
PRP is a great treatment for hair loss, but this option has limited effects if the hair loss starts to change in the severe process of baldness. Baldness is totally a different situation that needs a different approach. In baldness, hairs are not only weak but they are gone forever. Therefore, you have to think about other special and effective treatments for baldness.
What About Hair Transplant?
When we think about baldness, the first choice that comes to the mind is hair transplant. Hair transplant is a modern and advanced procedure for every stage of baldness. You may be at the start of baldness process or you may have completely bald, hair transplant experts are ready to provide you totally natural results.
Hair transplant procedure involves removing the healthy hairs from the donor sites of the head and transplanting them to the bald areas of the head. This simple, harmless, and risk-free procedure is enough to make you proud of your hair again.
Marmm Klinik has built up a team of extraordinary experts of Hair Transplant in Indore . These experts are capable of treating you according to the conditions of your scalp. You just need to go there and tell about your hair loss and baldness history and they are ready to provide you a complete assistance until you come back from the clinic with a satisfied face.
Finally, if you are facing hair loss or baldness problem, you just need to make your mind to come to the clinic. We are sure, that your decision is going to be fruitful for you.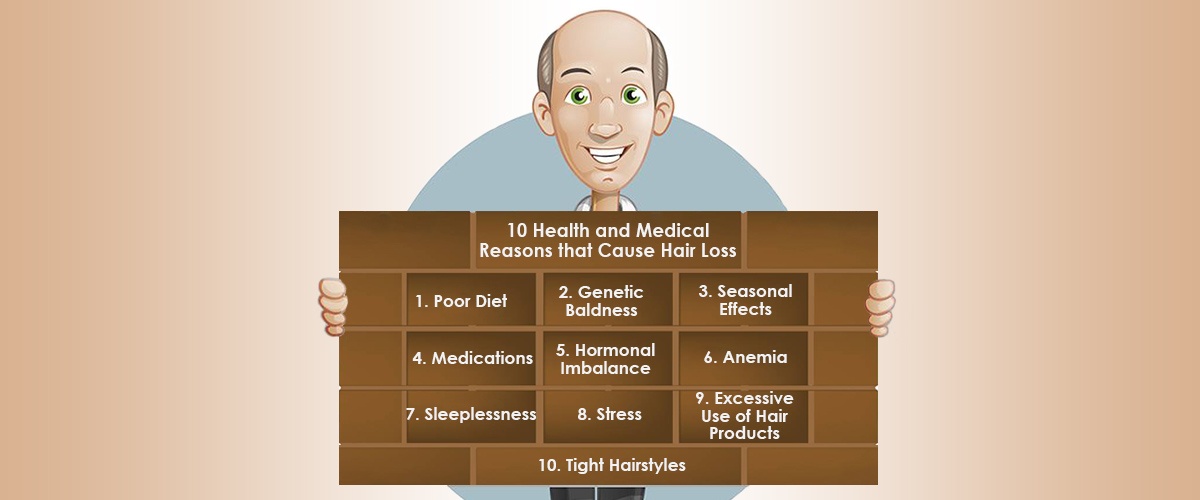 Are you worried nowadays because of the excessive hair loss? You worries are genuine since hair loss a warning sign of baldness. We know that you just love your long, healthy hair and do not want to lose them forever. Actually, all the health conditions of your body have some reasons. If you recognize these reasons at the right time, you can prevent the future consequences. We have a list of 10 reasons that cause baldness. We hope you will try to escape from these reasons and will have your hair healthy for a long time.
This is one of the most prominent reasons for all the disease in the body and the hair is not an exception. Your hair needs proper nutrition. Lack of protein, iron, and various vitamins is the main cause of hair loss. Sometimes, excessive vitamins also cause hair loss. A healthy diet is the only for this cause of hair loss.
Male pattern baldness or female baldness may occur if anyone of your parents or grandparents had this problem. In this case, the options for prevention are limited and you can hardly stop the process.
The Weather and wind are the main cause of the bad conditions of your hair. We advise you to stay alerted of every seasonal effect and take care of your hair according to weather.
Certain medications cause hair loss like the medication prescribed for some chronic diseases. Some medications cause hair loss as a side-effect.
Hormonal imbalance can harm your metabolic system and as a result, the health of your hair can be influenced.
Iron deficiency causes anemia that results in hair loss or finally baldness. Iron is a necessary component for the well-being of hair. Therefore, take proper iron-rich diet for preventing anemia.
This is a proved fact that sleeping disordered cause hair loss in men or women. Sleeplessness may occur due to some diseases or you sometimes you ignore the importance of a deep sleep. In both the cases, the health of your hair is affected.
Physical stress or mental stress also causes hair loss. Physical stress include diseases, trauma, sudden injuries etc. and mental stress includes depression, tension etc.
9. Excessive Use of Hair Products:
Hair creams, lotions, and other hair products are not always beneficial. Some of them can cause hair loss as a side-effect. Use only trusted hair products and do not use them excessively.
Tight hairstyles that keep the hair under pressure for a long time can cause hair loss or even baldness. Pressure on the hair gradually makes the hair follicles weak and this situation results in complete baldness.
We hope these reasons will help you finding the root cause of your hair problems.
Stop Stressing About Hair Loss ! We are Hair Loss Experts and Provide PRP Hair Loss Treatment For Natural Hair Growth.